If you just moved to Portland then you're not alone
I once met a person who was actually from Portland! I think there are about six people who are, so meeting one was quite the treat.
Otherwise Portland is a home to wanderers who ran into the ocean, watched Portlandia and moved from California, or played the Oregon Trail Game and followed some guy named Lewis!
However you made it here--we're glad you did!
Here's a list of our favorite places in and around Portland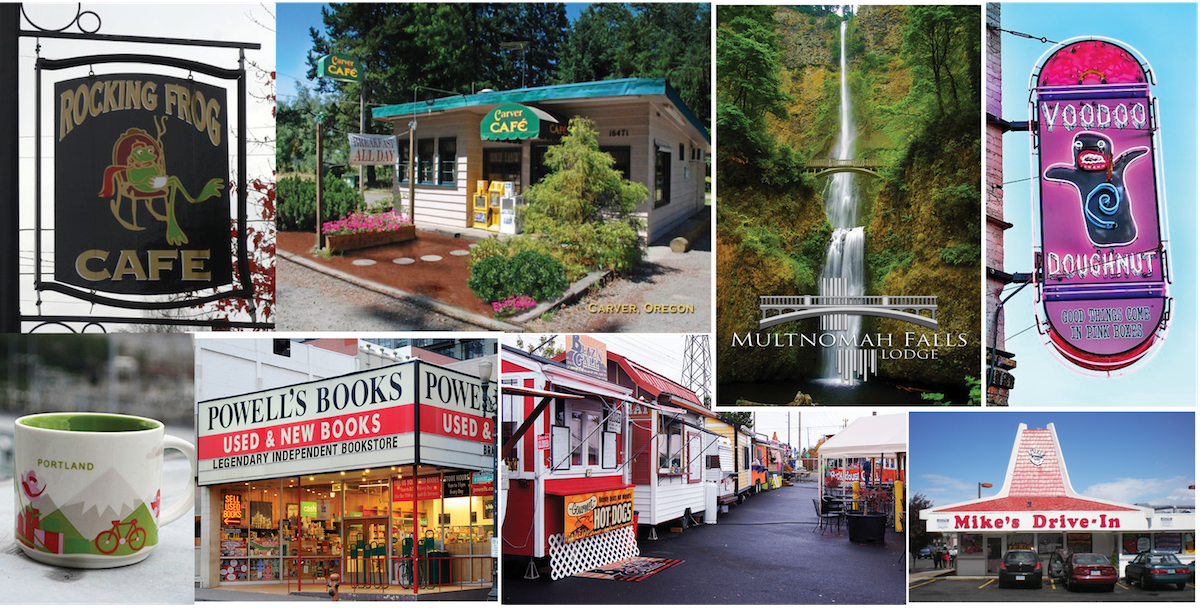 Rain -- Let's get this one out of the way. It rains here. Embrace it! Love it! Live it!
Coffee Shops -- There are far too many to count, much less mention. But they are wonderful.
Cartlandia, Cartopia -- Really, we haven't met a food cart we wouldn't try!
Carver Café -- Twilight fans may appreciate this one, we love the owner!
Cathedral Bridge -- You had to know this would be our favorite bridge in Bridge City.
Crossroads Café -- A wonderful atmosphere and place to meet a friend. Again, another lovely owner.
Dungeness Crab -- Okay, it's not a place, but they are so delicious... and definitely a PNW specialty.
In-N-Out Burger -- Only 42 miles from Portland!!! Take that California!
Mike's Drive-In -- Two locations. We like the one in Oregon City, Oregon's first city and end of the Oregon Trail.
Powell's Books in the Pearl -- Make sure you grab a map and a GPS to find your way around the largest used/new bookstore in the world...we think.
Voodoo Doughnuts -- Normally we wouldn't endorse Voodoo, but this is the place you'll take friends who visit. And in all honesty who doesn't love the Maple Bacon Bar!
Astoria for you Goonies, you know who you are.
Milwaukie -- with an i before e as it "should be."
Multnomah Lodge for breakfast and Timberline for the snow.
Mount Hood Meadows for skiing.
Cannon Beach Surf Shop for, you guessed it, a little surfing. See Julie at Cannon Beach Surf Lessons if you're new to but want to take the plunge!
The Gorge, Mount Hood, Mount Saint Helens, Haystack Rock, pick a direction and start exploring!
And if you're looking for a church? -- We're partial to one in particular, but thankfully there are many great ones in Portland!
Did we cover the rain? -- Now as an official resident of the Pacific Northwest remember to tell everyone back home that it rains all the time here--moss coming out of your ears! Unless you really like them. Then have them join us!